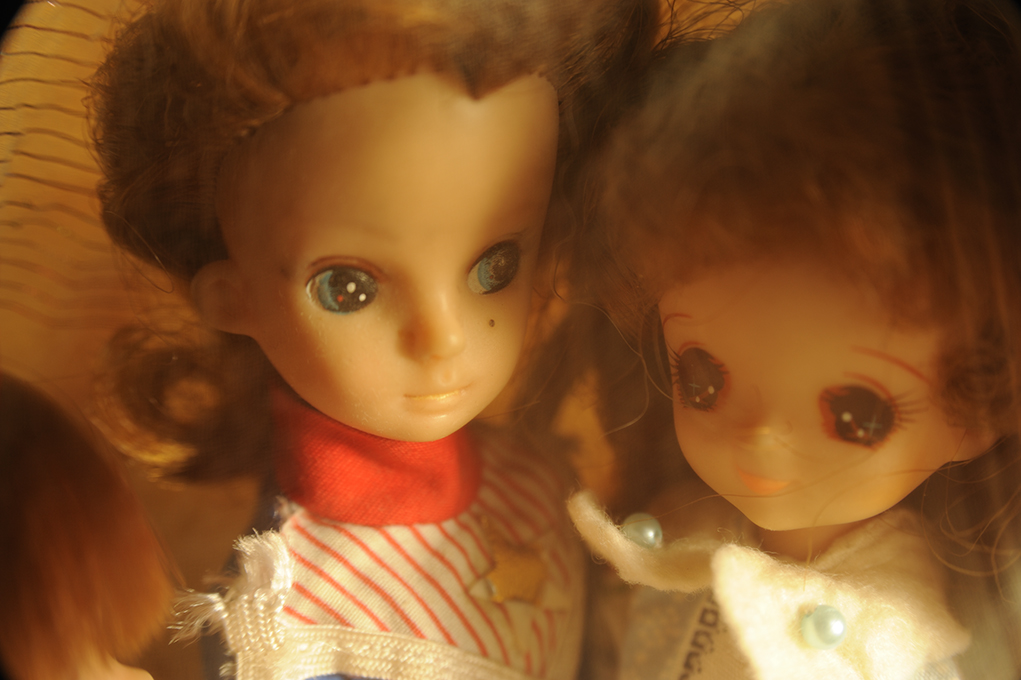 【文/本江邦夫】
写真は不思議だ。でも、ここまで不思議なものとは古賀亜希子の作品、たぶん無垢の写真を見るまで、考えたことが無かった。美術界でふつう目にする「写真」はすでにブランドがついていて、「写真」以前のものを見せようとしない。また、見ようともしない。乱暴な言い方になるが、ただの商品ということだ。
とても私的なことだが、幼稚園に上がる前の私と、それからしばらくして四国は新居浜の溜池で、私の目の前で溺死したすぐ上の兄との、当時のことだからそれはもう質朴な紙焼き写真が見つかり、先日あるところから送られてきた。かなり浮浪児のような兄と私―昭和20年代後半の松山で、ひょっとしたら亡き父に写されたそれを手にして、私はふと、これは誰なのだろうと考え始めた。それまで写真に「事実」とその裏返しとしての作為しか見ていなかった私。それがなぜ?これはその少し前に古賀亜希子の、とりわけ初期作品から、写真はその本質、つまり無垢性において「写されていないもの」を「写す」ことを直観していたからに他ならない。なぜそれが可能なのか? たぶん時間があるからだ。
時間は不思議だ。カントはだから物自体としてそれを片付けた。T・S・エリオットの『四つの四重奏』の冒頭を飾るのも不思議な二行だ。
Time present and time past 
Are both perhaps present in time future
過去も現在もたぶん未来の中に在る、現前している。問題は「たぶん perhaps」―確実ではないことだ。兄は居なくなり、私は残っている。たまたま…。急なことだが、写真と時間について、今の私はとても図式的だがこう考えている。一つの面があって、その表と裏が現在と過去、面は未来そのものであると。浮浪児の「私」に私は私の未来を見ているのだ。
古賀亜希子がその三部作≪Licca≫、≪美しいものや不気味なもの≫、そして今回の≪マリアさま≫を通じて、なぜ自らの幼女時代と向き合っているのか。その本当の理由はむろん私などには分からない。分かっているのは、鬱屈したセロ弾きゴーシュに深夜、小太鼓を習いにやってくる狸の子よろしく、この不器用な私に彼女がいきなりテクストを依頼してきたことだ。そして私は古賀亜希子―その無垢の写真を「発見」したのだ。
古賀亜希子の写真は洞察的であり、その意味で透明だと言えるかもしれない。接写が多いのだが、特徴的なのはそうして映しだされた断片が全体を開示することである。彼女自身の私的なことと関わることかもしれないが、「一対のもの」への執拗な関心もとても興味深い。なかでも、幼い頃のリカちゃん人形と、いわば対話するかのような≪Licca≫の一枚、隣の妹(?)をにらみつつ「私」を見返す姉の姿は残酷なまでに美しい。実は、私はこの一枚で、「この人は凄い!」と思ってしまったのだ。
新作の≪マリアさま≫は幼時の創造的な彼女自身に向けられたものだ。実際、紙粘土で作られた小さな可愛らしいマリアさまがある。なぜこのシリーズだけが白黒なのか現時点では分からない。面白いのは、幼い頭でこしらえつつあった物語が映しだされていることだ。何という無垢のかたち。これはもはや記録でも痕跡でもない、おそらく今もなお作者のなかで綴られつつある、その意味で永遠に現在である物語だ。このあいだ古賀亜希子は意味深いことを言った。正確な文言は忘れたが、「アルツハイマーの人にとってはすべてが現在である」と。同じことは、過去も現在も、さらには未来も分かっていると思い込んでいる私たちにも言えるのではないか。古賀亜希子の無垢の写真は、思いのほか洞察的である。
(もとえくにお/多摩美術大学教授)
---
On Akiko Koga, or About Her Innocent Photography
Kunio Motoe, Professor, Tama Art University
Photography is a mystery. I had never thought that it was particularly mystifying until I viewed Akiko Koga's works: her seemingly innocent photographs. The "photos" that one normally sees in the art world are already branded as being of some specific style. Thus, artists do not attempt to show "photos" that have not yet been branded, nor are viewers interested in seeing non-branded photos. It might be a harsh way to put it, but this means photos in the art world are mere commodities.
On a very personal level, the other day a photo was sent to me from a certain individual. It was a very plain print, since it was of me before I was in kindergarten and my closest brother in age, who drowned in a reservoir in Niihama, Ehime Prefecture on Shikoku Island soon after that photo was taken. As it was taken in the early 1950s in Matsuyama, Ehime, my brother and I looked much like street children. As I held the photo that could have been taken by my late father, my mind began to wonder who those people were in the photo. Until that time, I only saw "facts" in a photo and the intentions on the other side of those facts. Then why did I in this instance have such a strange notion? This was all because shortly before I saw that photo, I had intuitively sensed from viewing Koga's photos (particularly her early ones) that a photo should "photograph" the essence, that is, an innocent nature that does "not appear in the photo." She was likely able to express this because of the existence of time that is inherent in her photos.
Time is a mystery. This is why Immanuel Kant concluded that time was a thing-in-itself. The two lines that appear at the outset of T. S. Eliot's Four Quartets are also mystifying:
Time present and time past
Are both perhaps present in time future
"Perhaps" indicates that the notion is not decisive.
My brother passed away and I remained. This was merely by chance. It may seem abrupt but I have come to take quite a schematic view on photography and time. Namely, my current idea is that a photo has a single plane, the front of the plane being the present and the back being the past, with the plane itself representing the future. This means that in the said photo with my brother, I am seeing my future in the street-child-like "I."
Akiko Koga focused on her own childhood in creating the triptych Licca, and The Beautiful and the Eerie, as well as in Virgin Mary in this exhibition. I of course do not know the true reason behind why she focused on her childhood. What I do know is that she contacted me out of the blue to ask an unpolished person such as myself to write the essay for her solo show, as if she were a baby raccoon dog who came to learn how to play a small drum from the dispirited "Gauche the Cellist" (as told in the story by Kenji Miyazawa). This was how I "discovered" Koga and her innocent photography.
Koga's photos are insightful. From this aspect one could say that they have a sense of lucidity. The distinctive feature of her photos is that although many are taken close up, those fragmental images allow the viewer to imagine the respective scenes in their entireties. Another impressive feature is her obstinate interest toward the idea of "in pairs," which might be connected with her personal affairs. In particular, one of the photos in Licca allows the viewer to feel like he/she is holding a dialogue with the Licca-chan doll from Koga's childhood. In that photo, the way in which the Licca-chan doll stares at her presumably young sister-doll at her side, while also gazing back at the "I" viewing her, is brutally beautiful. In fact, that single photo was persuasive enough for me to exude that "she is amazing!"
In her new series Virgin Mary, she focuses on her own creative-self during the time of her childhood. There was actually a small, sweet-looking Mary made from paper-mache that appeared in the work. I do not know at this point why this series alone is in black-and-white. Interestingly, this series unfolds a story that she was in the process of constructing as a child. The images are in such innocent forms that this series can no longer be seen as a document of or vestiges from the past. Rather, the story is likely still being composed within her mind today. From this perspective, the story is everlastingly in the present. I have forgotten the exact words Koga used, but the other day she gave an interesting comment: "For people with Alzheimer's disease, everything is in the present." This same notion can also be applied to those of us who believe that we know the past, the present and even the future. Akiko Koga's innocent photographs are indeed surprisingly insightful.
(Translated by Taeko Nanpei)